Tile Cleaning in Austell, Georgia
Austell Tile Cleaning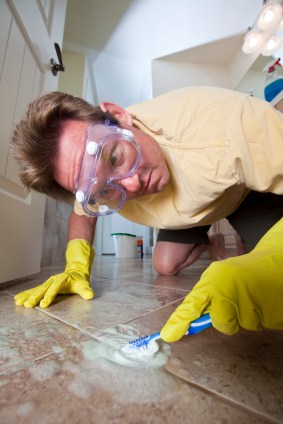 Since 2009 Golden Touch Cleaning LLC has provided an Austell tile and grout cleaning service that is a cut above the rest. Our friendly Austell tile cleaners will wash tiles on walls, clean tile countertops and clean tile floors. Austell homeowners are always thrilled how we save them time by doing their Austell tile cleaning. Golden Touch Cleaning LLC's cleaners expertly clean tile in Austell to restore their natural beauty and make them sparkle like new! Call us now at (678) 534-7314 to ask about our Austell tile cleaning service.
Austell Grout Cleaning
Look out grout mildew! Austell residents rely on Golden Touch Cleaning LLC for effective grout cleaning. We use professional grade grout cleaners to remove dirt, grime, mold, and mildew without harming the grout. Golden Touch Cleaning LLC also works diligently to remove soap scum and hard water deposits from grout & tile in Austell homes. We have the muscle and know-how to clean mold and mildew stains, Austell residents rely on. Don't wrestle with messy mold and mildew, call Golden Touch Cleaning LLC at (678) 534-7314 and learn how affordable grout cleaning in Austell GA can be.
Brighten Your Austell Tile
For 11 years Golden Touch Cleaning LLC has been cleaning Austell kitchen tiles and cleaning Austell bathroom tiles for homeowners who want to breathe new life into their tiles. We clean tiles in Austell Georgia so that they're bright and shiny again. Golden Touch Cleaning LLC cleans bathroom tile in Austell and shower tiles, getting rid of that dull layer of every-day use. We apply professional strength mildew and mold cleaners. Austell bathrooms will always be disinfected safely and left shimmering with Golden Touch Cleaning LLC. Austell kitchen tile cleaning is also a job we tackle with extreme attention to detail. We clean tile counters, backsplashes and floors so that every nook and cranny is sparkling.
Golden Touch Cleaning LLC is in business to clean tile Austell homeowners! We go above and beyond cleaning tile floors and walls for our clients. Golden Touch Cleaning LLC has been committed to delivering quality service since 2009. Contact us now at (678) 534-7314 and let us clean brighten your Austell tiles!
---
Call for FREE Tile Cleaning Quote
---
WHAT CUSTOMERS ARE SAYING:
5★★★★★ - "I cannot believe the job Mary did in my dad's apartment. We didn't realize how bad it had gotten and thought we would have to move him. However, it now looks better than the day he moved in!!!! Unbelievable work!!!! Thank you so much!"

Meredith in Canton, GA

2020-06-05

5★★★★★ - "Very professional and timely, very good job. Enjoyed Mary very much."

Anonymous

2019-07-03

5★★★★★ - "Mary has cleaned my vacant real estate listings several times, and she is always on time, thorough, and does more than she promises. Reasonably priced, too! Highly recommended!"

Clark Nickerson in Canton, GA

2019-05-13

5★★★★★ - "needed deep cleaning- I submitted my information on the website and i was immediately called. They were able to come immediately the next morning and the results were outstanding!! Highly recommend to anyone needing this service!!"

Anonymous, Cleaning

2017-11-16

5★★★★★ - "My wife, Lorrie, hurt her back in an accident. We called Golden Touch Cleaning Service LLC because my wife was not able to do the housework Mary came out and gave a free estimate. In the very next day, her team was at my house to do the cleaning. needless to say they were very professional and polite when the crew was finished. I was amazed how the house looked and smelled. I would definitely be using Golden Touch Cleaning Service LLC as my regular cleaning business. Thank you Mary for coming out on a short notice and getting our house in order."

James in Lorrie Holbrook in Acworth, GA

5★★★★★ - "To say I am pleased is an understatement. Mary and her team do impeccable work. They went above and beyond what I expected. Mary was professional, thorough and kind. I highly recommend them."

Tamara in Woodstock, GA

5★★★★★ - "The customer service and professionalism that Golden Touch Cleaning LLC projects is unparalleled. The attention to detail and the ability to clean to the customers satisfaction is great. With confidence, I would recommend Golden Touch to every one who is looking for great service."

Gail Moreno in Woodstock, GA

5★★★★★ - "Our place looks wonderful (as it always does after a cleaning with Golden Touch Cleaning ). Outstanding job every time I have my home cleaned by them. They are so friendly and pet friendly too while being professional, neat and very polite. Love the way they pay attention to detail, even the small things. The team lives up to the company's very high standards."

Donna Gibson in Alpharetta, GA

5★★★★★ - "Our house shines from top to bottom after Golden Touch Cleaning was done. I'm going to recommend them to all my family and friends.
Thank you for taking pride in your work, job well done."

Lesley Rotchford in Woodstock, GA

5★★★★★ - "This place looks wonderful (as it always does after a cleaning). Outstanding job every time I have a cleaning. They are so friendly and cheerful while being so professional - neat, & polite. This team lives up to the company's very high standards."

Christian Larson in Smyrna, GA

5 ★★★★★ - "Keller Williams Realty I just wanted to let you guys know you did a SUPERB job on the house yesterday. The ladies always do well but, for whatever reason, the house looked exceptional yesterday and I can tell they paid attention to even the tiniest details! The way they made up the beds were awesome!"

Susie Wilson in Alpharetta, GA

5 ★★★★★ - "Thank you for making our home stress free! I have no worries when my 10 month old crawls around and chews furniture because you ladies do such an amazing job eliminating dirt, dust, and pet hair! I now can focus my at home time on playing with her and enjoying my life outside of the office."

Judy simms in Canton, GA

5 ★★★★★ - ""Mary holds my heart! This woman does not miss a detail, and she is obviously very prideful with her work. I am recommending 99.com to people just because of my unbelievable luck in finding her here.""

Adrienna Tarkie in Atlanta, GA

5 ★★★★★ - "I reached out last minute to get a full detailed clean of my house.. 1. they showed up on the scheduled time that I made and looked very professional 2.) they did little details such as cleaning the inside of my refrigerator and also cleaning and organizing the closet as well 3.) There organization is fantastic. My house smells and looks like a new house I will definitely be using them in the near future I WAS VERY SATISFIED"

Shannon Bates in Alpharetta, GA

5 ★★★★★ - "Move-in or Move-out Cleaning "Mary, thank you for your help with our move out cleaning! Mary Golden responded very quickly to the project request on our urgent help with our move out. she came the next morning and did awesome job doing deep cleaning throughout the house. thank you again Mary!""

Al Sringers in Acworth, GA

5 ★★★★★ - "Mark L. House Cleaning (Recurring) "Mary went overtime and gave extra effort to a tough assignment. Modern places are relatively easy compared with working in an older home that needed overdue attention. Well done indeed"

Jim McFaire in Alpharetta, GA

5 ★★★★★ - ""I needed my apartment cleaned after I moved out. Golden Touch did an excellent job at making the place move in ready. They are very professional and friendly.""

Susie sulate in Canton, GA

5 ★★★★★ - ""I had a very tough house cleaning job and I was very fortunate to find Golden Touch Cleaning. After they finished the job I was amazed at how fantastic the rooms looked and smelled.The kitchen was cleaned way beyond my expectations. They were prompt, professional, detailed in the cleaning process and eager to satisfy me the customer.There are not enough stars to rate them. Job well done at a good price.""

saran black in Canton, GA

5 ★★★★★ - "Fran N. House Cleaning (One Time) "Mary & her daughter did a great job cleaning my house. It was a big job as I've had foot problems and been in leg cast for 4 weeks. They detailed the house and organized my clutter. Mary arrived on time & also sent a text that she was on her way. I appreciate the care they gave to my home.""

Fran bacock in Alpharetta, GA

5 ★★★★★ - "I had a very tough house cleaning job and I was very fortunate to find Golden Touch Cleaning. After they finished the job I was amazed at how fantastic the rooms looked and smelled.The kitchen was cleaned way beyond my expectations. They were prompt, professional, detailed in the cleaning process and eager to satisfy me the customer.There are not enough stars to rate them. Job well done at a good price.""

MAURY P in Dunwoody, GA

5★★★★★ - "I had my office call this sevice for cleaning, Goldencare team came out the very next day and was very professional and detailed also great organizing skills. We had a top to bottom cleaning and now goldencare will be doing our office every week."

Office Cleaning

2013-01-09

5★★★★★ - "My name is Ron White my wife was sick so I call goldencare cleaning server there did a great job and now clean us every other week ."

Ron White, House Cleaning

2013-01-09

5★★★★★ - "My wife and I use GoldenCare Cleaning Servie for over a year now very good service they clean our home every Wed."

John Woodcock, House Cleaning

2013-01-09

5★★★★★ - "Goldencare Cleaning Service did a great job."

House Cleaning in Atlanta, GA

2013-01-08

5★★★★★ - "It was the best maid service I ever had at my house."

House Cleaning

2013-01-08

5★★★★★ - "They did excellent work, great service, affordable pricing."

Maid Service in Decatur, GA

2013-01-08

5★★★★★ - "I have nothing but good things to say about Goldencare. I would refer them to all of my friends."

House Cleaning in Atlanta, GA

2013-01-08
---
Call for FREE Tile Cleaning Quote
---